New Year Aperitivo Italiano on 17th January 2019 at Villa Danieli, Sheraton Imperial Kuala Lumpur Hotel
​Extraordinary Italian Taste - the week of the Italian cuisine in the world to take place in Kuala Lumpur from November 24th to November 29th
Gran Gala Italia - Year End Dinner at Marini's on 57 with Michelin Starred Chef Daniele Repetti on 29th November 2018
Join our year end dinner - Gran Gala Italia for a night of luxury dining experience to celebrate the year end and milestones we've achieved with Michelin Starred Chef Daniele Repetti, Head Chef of Nido Del Picchio.

Venue: Marini's on 57

Date: 29th November 2018 (Thursday)

Time: 7pm Networking Aperitivo / 8pm Gala Dinner

Dresscode: Business Attire / Cocktail Dress

Price : IMBA Member RM 328/ Non Member RM388

(Price inclusive of Wine Pairing)

H.E. Cristiano Maggipinto, Ambassdor of Italy to Malaysia will grace the event with his presence.

To RSVP, please email to events@imba.org.my or call +603 2164 9931 by 23rd November 2018 (Friday). Please book early as we have limited availability.

*This event is made possible by our collaboration with the Embassy of Italy in Kuala Lumpur and the Italian Trade Agency, for the occasion of the Extraordinary Italian Taste.
Europa Awards for Sustainability 2018 Gala Dinner

- 22 November 2018 @ Four Seasons Kuala Lumpur
Europa Awards for Sustainability 2018 Gala Dinner will take place on 22nd November 2018 (Thursday)

Time: 5pm to 11pm

Venue: Grand Ball Room, Four Seasons Hotel, Kuala Lumpur.

Europa Awards for Sustainability 2018 is an initiative that aims to promote business excellence in Malaysia, in line with the sustainable development principles of the European Union.

Nominations are open for the most prestigious sustainability business award in Malaysia.

For Gala Dinner registration, please email to events@imba.org.my

Click

here

for registration form
Madama Butterfly @ KPAC - 22-25 November 2018
Don't miss Madama Butterfly, an opera in three acts by Giacomo Puccini, with an Italian libretto by Luigi Illica and Giuseppe Giacosa.
This tragic story of love and heartbreak is scheduled for November 22-25, 8pm at Kuala Lumpur Performing Arts Centre. Early bird gets 20% discount till 14th September 2018.
Italian Film Festival (IFF) 2018 - Opening Launch - 12 November 2018
We are pleased to announce that the 2nd edition of the

Italian Film Festival will begin this Monday, November 12 at TGV 1 Utama

.

H.E Cristiano Maggipinto, Ambassador of Italy to Malaysia and local actress Nabila Huda will open the screening of the film "Benvenuti al Sud" with an informal presentation on "FARE CINEMA".

Given the limited number of seats available, please confirm your presence as soon as possible by sending an email to

kualalumpur.stage@esteri.it




Organized in collaboration with TGV Cinemas Sdn. Bhd. and with the support of Cinema Online as "online movie partner", the Festival del Cinema Italiano is an integrated promotion initiative supported by the Italian Embassy, the local ICE Office and the Italy Malaysia Business Association (IMBA).

The Festival - which will present a selection of 5 major Italian films - screened free of charge - will take place from 12 to 19 November 2018, at the following cinemas: TGV 1Utama, Sunway Velocity Mall and KLCC. Tickets will be available shortly on the website

www.tgv.com.my

at no cost."
Interchamber Ladies Sundowner - 31 October 2018 @ U-Bar, Capri by Fraser Kuala Lumpur
Interchamber Ladies Sundowner is happening on 31st October 2018 at

U-Bar at Capri by Fraser Kuala Lumpur. This networking event is jointly organised with the Malaysian German Chamber of Commerce and the other bilateral members,

exclusively for female participants

with

the opportunity to broaden your network.

Date: 31st October 2018, Wednesday

Time: 6pm - 8.30pm

Venue: U-Bar @ Level 33, Capri by Fraser Kuala Lumpur

Programme:

6.00pm Registration of guests

6.30pm Networking begins, Food & Beverages served

7.00pm Opening remarks by MGCC

7.10pm Networking resumes

8.30pm END

Price:

RM 140 for IMBA Member

RM 190 for Non Member / Walk Ins

For registration, please email to

events@imba.org.my
2018 CIMB Classic PGA Tour- Inter Chamber Networking Event @ TPC Kuala Lumpur - 10 October 2018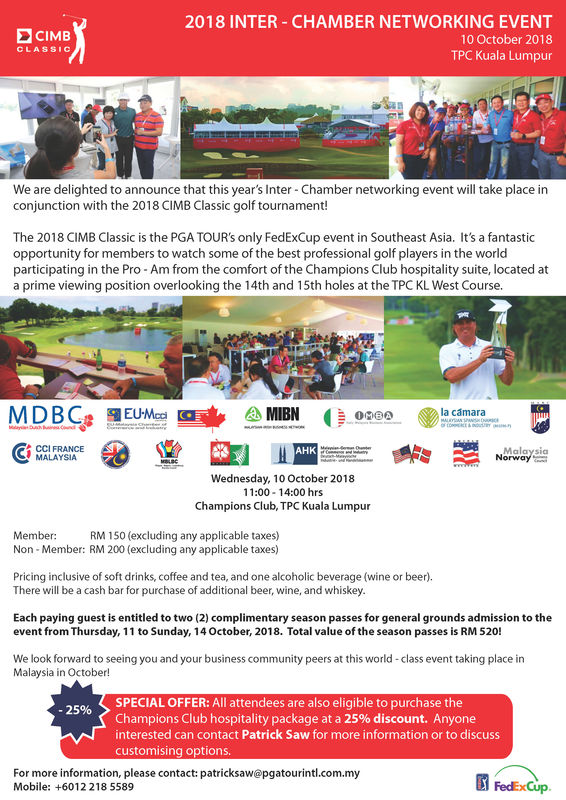 Amarone Wine Dinner @ Traders Hotel Kuala Lumpur - 26 September 2018
Experience a memorable Amarone Wine Dinner with Five-course Northern Italian Cuisine at Gobo Upstairs Lounge & Grill, Traders Hotel Kuala Lumpur. Get to know its distinct taste, only on 26th September 2018.

IMBA members get 10% discount.

To RSVP:

Email:

goboupstairs.thkl@tradershotel.com

Call: +603 2332 9910.

​
IMBA Update: Seminar on SST @ Traders Hotel - 19 September 2018
IMBA Members and Friends are invited to join the IMBA Update & Networking on 19 September 2018, from 6 pm, at Traders Hotel, Kuala Lumpur.

Our Corporate Member Rabindra Singh Veriah, Managing Partner of Rabin & Associates Chartered Accountants, will conduct a seminar on the new Sales & Service Tax, which will come into effect starting from September 1st.

The seminar will be followed by an exclusive networking dinner at the award winning SkyBar Kuala Lumpur, featuring an Italian buffet including Antipasti, Pasta & Risotto stations, Carving stations, Italian Desserts and two drinks (soft drink, wine, beer).

This event is limited to 20 participants and it's free for IMBA Members who confirm their participation by Friday, 14 September 2018 and RM100 for Non Members.

Register now to secure your participation: E-mail: events@imba.org.my

Contact: Vivian +603 2164 9931 Venue: Traders Hotel Kuala Lumpur
Launch of 2018 Fall Winter Safilo Eyewear Collections- @ Ciao Ristorante - 5 September 2018
You are cordially invited to the Launch of 2018 Fall Winter Safilo Eyewear Collections on 5th September 2018 (Wednesday), taking place at Ciao Ristorante from 2:30pm - 5pm.
​
Safilo Group is the fully integrated Italian eyewear creator and worldwide distributor of quality and trust, leader in the premium sector for sunglasses, optical frames and sports eyewear.
​
To RSVP, please email to events@imba.org.my
Sweet Beginning, A Duo Alterno's Concert @ UITM - 4 September 2018
Mark your calendar on 4th September 2018, for the highly anticipated "Sweet Beginning, a Duo Alterno's concert", organized by The Embassy of Italy in Kuala Lumpur, in collaboration with UITM's Faculty of Music in Shah Alam.

To RSVP,
​please email to

centralino.kualalumpur@esteri.it

by 24th August 2018.
IMBA Aperitivo Italiano @ Mosto Wine Bar - 29 August 2018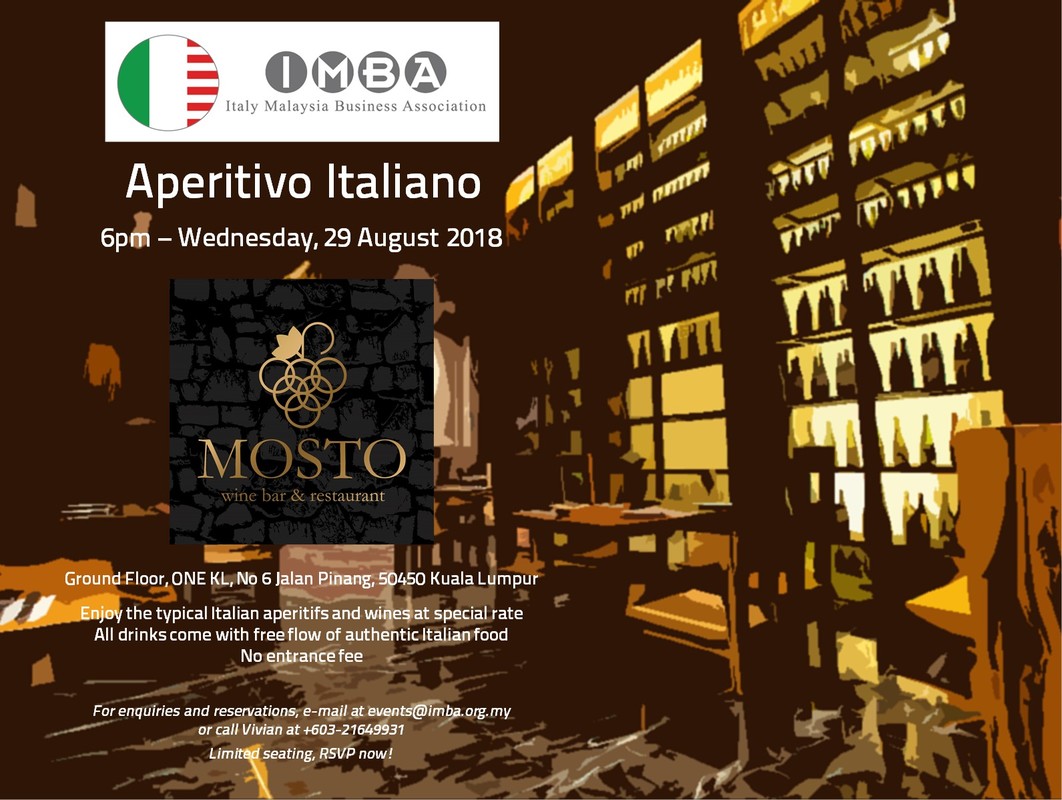 Caravaggio Opera Omnia Exhibition - 14th July to 5th September 2018
Don't miss out the Caravaggio Opera Omnia exhibition, an ambitious project by the Embassy of Italy in Kuala Lumpur, realized thanks to the support of the Italian Ministry of Foreign Affairs and RAI, the Italian public television.

The exhibition will be opened to the public at the National Art Gallery in Kuala Lumpur.
​
Entrance is FREE!
Date : 14th July 2018 - 5th September 2018
Venue: Gallery 3A (3rd Floor) , National Art Gallery in Kuala Lumpur
Time: 10am – 6pm Daily
Launch of The Italian Emporium on Lazada - August 2nd 2018
The Italian Emporium, a joint initiative between IMBA and Lazada Malaysia, is an e-commerce platform on Lazada website and mobile app dedicated exclusively to showcase Italian brands and Made in Italy products. This platform will initially allow sellers to reach buyers in Malaysia and Singapore, but soon it will give access to all South-east Asia markets, leveraging the Digital Free Trade Zone.
​
The Italian Emporium will be the first digital window for Made in Italy products and brands in South-east Asia. It will represent a great opportunity for vendors to gain traction in the e-commerce market in this growing digital era and to increase awareness among South-east Asia consumers about the value and quality of authentic Made in Italy products and brands.

This event is by invitation only. If you are interested to know more, please send an email to info@imba.org.my.



Marco Vezzoso Live Project @ No Black Tie, 15th July 2018
IMBA Update:
Business Intelligence and Risk Management Workshop
+ Roundtable with the Italian Ambassador and the Italian Trade Commissioner
27th June 2018 @ Traders Hotel Kuala Lumpur
IMBA Aperitivo Italiano @ Nerovivo - 24 May 2018
Cecilia Brunori + Reverse Quartet - No Black Tie, 15 May 2018

IMBA International Networking Dinner at Marini's 57 - 25th April 2018

Junior Couture Italian Fashion Soiree 2018 at Maison, Pavilion KL -
12th April 2018
Italy and ASEAN: Political, Cultural and Economic Prospects of a New Relationship, University of Malaya - 10th April 2018
Aperitivo Italiano- Launch of In Motion, The Italy-Malaysia Business Magazine at Cicchetti di Zenzero - 16th March 2018
Vinicio Capossela Live in Action at No Black Tie- 6th March 2018
UniKL IPROM Design Gallery & Italian Design Day 2018, 2nd March 2018
The Italian Carnival! 9th February 2018 @ Wisma RKT
Attacchi di Pane - 3rd December 2017
The Extraordinary Italian Taste Week and IMBA year-end Gala Dinner
​20th - 26th November 2017
The Italian Film Festival 2017 is here!
​Dinner with YB Dato' Seri Mohamed Nazri bin Abdul Aziz Minister of Tourism and Culture Malaysia, 24th October 2017
​
Italian Language Week in the World 17th Edition, 16th to 22nd October 2017
​Le Nozze Di Figaro Premier at KLPAC ​, 12 October 2017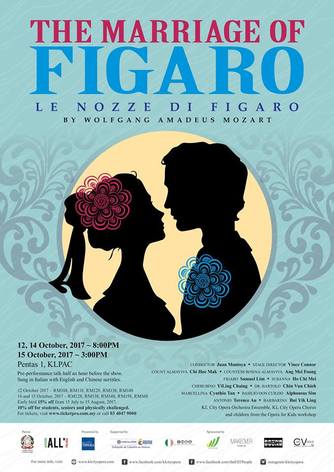 ---
IMBA UPDATE: Doing Business In Malaysia In Turbulent Times - 2 August 2017

- Traders Hotel
The First IMBA Hash Run - 8 July 2017 at Hulu Langat
2017 IMBA Grand Prix Karting - Friday June 9th 2017
Sepang International Kart Circuit
Interchamber business talk on April 27th
2017 Annual General Meeting Gala Dinner - April 26th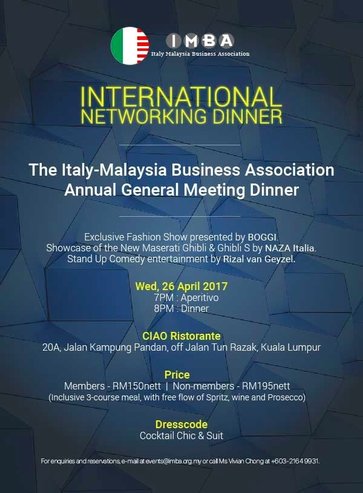 ---
Invitation to explore business opportunities in Malacca on April 6th
2017 Carnival Party - February 24th
2017 ALYA Malaysian Open WTA tennis - February 28th
IMBA aperitif & year-end toast - 15th December 2016
The Extraordinary Italian Taste Gala Dinner - Gobo Restaurant, KL - 26th Nov 2016
Appreciation Dinner at Il Bacaro, Penang on November 16th 2016.
16th Edition of the Italian Language Week in the World - From 17th to 23rd October
"Stelle and Friends with Maestro Maurizio Colacicchi" - October 22nd 2016
Presentation by former Italian Prime Minister and Professor Enrico Letta on October 21st 2016
Gala Dinner
to celebrate the launch of
Logo - 8 October 2016
IMBA Update & Networking

- Special for Amatrice -

21st September 2016
Apericena at Luretta DOP on September 16th 2016
IMBA Update & Networking on August 24th 2016 at Royal Lake Club, Kuala Lumpur
Lovers of opera are in for a treat with popular La Bohème coming to town!