Launch of The Italian Emporium on Lazada - August 2nd 2018
The Italian Emporium, a joint initiative between IMBA and Lazada Malaysia, is an e-commerce platform on Lazada website and mobile app dedicated exclusively to showcase Italian brands and Made in Italy products. This platform will initially allow sellers to reach buyers in Malaysia and Singapore, but soon it will give access to all South-east Asia markets, leveraging the Digital Free Trade Zone.
​
The Italian Emporium will be the first digital window for Made in Italy products and brands in South-east Asia. It will represent a great opportunity for vendors to gain traction in the e-commerce market in this growing digital era and to increase awareness among South-east Asia consumers about the value and quality of authentic Made in Italy products and brands.

This event is by invitation only. If you are interested to know more, please send an email to info@imba.org.my.



---
Marco Vezzoso Live Project @ No Black Tie, 15th July 2018
IMBA Update:
Business Intelligence and Risk Management Workshop
+ Roundtable with the Italian Ambassador and the Italian Trade Commissioner
27th June 2018 @ Traders Hotel Kuala Lumpur
IMBA Aperitivo Italiano @ Nerovivo - 24 May 2018
Cecilia Brunori + Reverse Quartet - No Black Tie, 15 May 2018

IMBA International Networking Dinner at Marini's 57 - 25th April 2018

Junior Couture Italian Fashion Soiree 2018 at Maison, Pavilion KL -
12th April 2018
Italy and ASEAN: Political, Cultural and Economic Prospects of a New Relationship, University of Malaya - 10th April 2018
Aperitivo Italiano- Launch of In Motion, The Italy-Malaysia Business Magazine at Cicchetti di Zenzero - 16th March 2018
Vinicio Capossela Live in Action at No Black Tie- 6th March 2018
UniKL IPROM Design Gallery & Italian Design Day 2018, 2nd March 2018
The Italian Carnival! 9th February 2018 @ Wisma RKT
Attacchi di Pane - 3rd December 2017
The Extraordinary Italian Taste Week and IMBA year-end Gala Dinner
​20th - 26th November 2017
The Italian Film Festival 2017 is here!
​Dinner with YB Dato' Seri Mohamed Nazri bin Abdul Aziz Minister of Tourism and Culture Malaysia, 24th October 2017
​
Italian Language Week in the World 17th Edition, 16th to 22nd October 2017
​Le Nozze Di Figaro Premier at KLPAC ​, 12 October 2017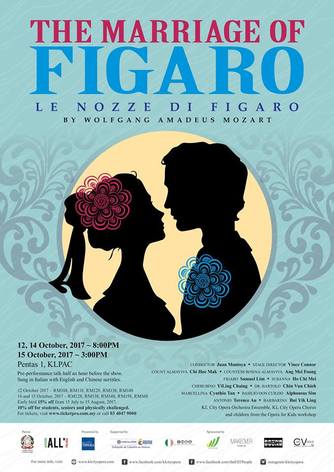 ---
IMBA UPDATE: Doing Business In Malaysia In Turbulent Times - 2 August 2017

- Traders Hotel
The First IMBA Hash Run - 8 July 2017 at Hulu Langat
2017 IMBA Grand Prix Karting - Friday June 9th 2017
Sepang International Kart Circuit
Interchamber business talk on April 27th
2017 Annual General Meeting Gala Dinner - April 26th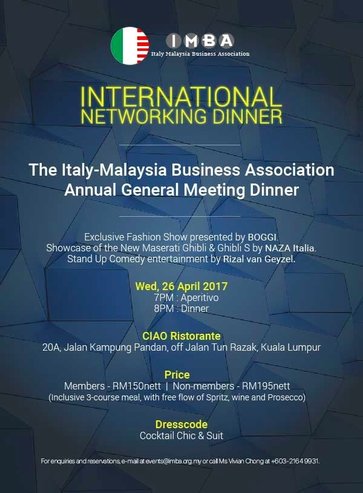 ---
Invitation to explore business opportunities in Malacca on April 6th
2017 Carnival Party - February 24th
2017 ALYA Malaysian Open WTA tennis - February 28th
IMBA aperitif & year-end toast - 15th December 2016
The Extraordinary Italian Taste Gala Dinner - Gobo Restaurant, KL - 26th Nov 2016
Appreciation Dinner at Il Bacaro, Penang on November 16th 2016.
16th Edition of the Italian Language Week in the World - From 17th to 23rd October
"Stelle and Friends with Maestro Maurizio Colacicchi" - October 22nd 2016
Presentation by former Italian Prime Minister and Professor Enrico Letta on October 21st 2016
Gala Dinner
to celebrate the launch of
Logo - 8 October 2016
IMBA Update & Networking

- Special for Amatrice -

21st September 2016
Apericena at Luretta DOP on September 16th 2016
IMBA Update & Networking on August 24th 2016 at Royal Lake Club, Kuala Lumpur
Lovers of opera are in for a treat with popular La Bohème coming to town!