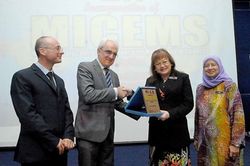 Serdang, the Malaysia-Italy Centre of Excellence for Mathematical Sciences (MICEMS) was officially inaugurated in Malaysia. Italy, known for its prestigious education and sciences, has given the endorsement to initiate MICEMS at Universiti Putra Malaysia (UPM). The Italian Government recognises the importance of mathematical sciences and the need for such a centre in this region. The MICEMS joint inauguration were represented by H.E. the Ambassador of Italy to Malaysia - Mario Sammartino, and the Honourable Deputy Minister of Higher Education Malaysia - Datuk Mary Yap Kain Ching.
The centre will be spearheaded by the Institute for Mathematical Research (INSPEM) in UPM and the Department of Mathematical Sciences "Giuseppe Luigi Lagrange" in Politecnico di Torino (Polito), Italy. Polito is the oldest technical university in Italy, founded in 1859, and is well known due to its wide range of research alliances with industries throughout the whole world. On the other hand, INSPEM-UPM was established in 2002 and has recently been awarded the status of Emerging Regional Centre of Excellence (EMS-ERCE) by European Mathematical Society (EMS).
The MICEMS initiative is the first of its kind in South East Asia and it would focus on research and development in mathematical sciences and their applications in industries and societies at large, e.g., cryptography, biomedical sciences and complex systems.. The realization of this project confirms the great potential of the collaboration between the Italian and Malaysian academic communities, bears witness to the strengthening of the bilateral relations in strategic fields and has to be regarded as a catalyst for further engagement and cooperation in the future. This initiative embraces the recent Malaysia Education Blueprint (MEB) as well with Malaysia's aspiration to be a regional hub in education and research.
---