Invest ASEAN: Italian Industry Expertise in Malaysia - 26th January 2021
Malaysian Danish Business Council Webinar presents Parliament Briefing Series No. 6 - 22nd January 2021
EUROCHAM Malaysia BizTalk Webinar Series #1: Digitalization in Logistics Solutions - 20th January 2021
Heritage Preservation & Economic Development in ASEAN - 08th December 2020
The Extraordinary Taste of Italian Excellences in Malaysia: Protection and Promotion of Geographical Indications - 26th November 2020
Malaysian Danish Business Council Webinar presents Parliament Briefing Series No. 5 - 25th November 2020
Italian Design Day 2020 - 22nd October 2020
---
Italian Networking Dinner 2020 at The Westin Kuala Lumpur
​4 September 2020
IMBA x Roedl & Partners Webinar - Employee Mobility during Covid-19 - 23rd July 2020 , 11am
1st Digital Italy-Malaysia Business Forum
1st Digital Round Table of the High-Level Dialogue on ASEAN Italy Economic Relation
Webinar with MATRADE on MATRADE's Direction in the New Normal - Export Promotion and International Supply Chains
Webinar with CEO Of MIDA 14 May 2020 :
How Malaysia is coping with COVID-19 and the Mitigation Measures: MIDA's Role to Sustain Quality Investment Post COVID-19
Webinar : Italian Institutions and Companies in Malaysia faced with the Covid-19 Pandemic
Webinar : Corporate Tax Measures for Covid-19 and Wage Subsidy Programme
IMBA x Mercy Malaysia Covid-19 Pandemic Fund - Calling for donations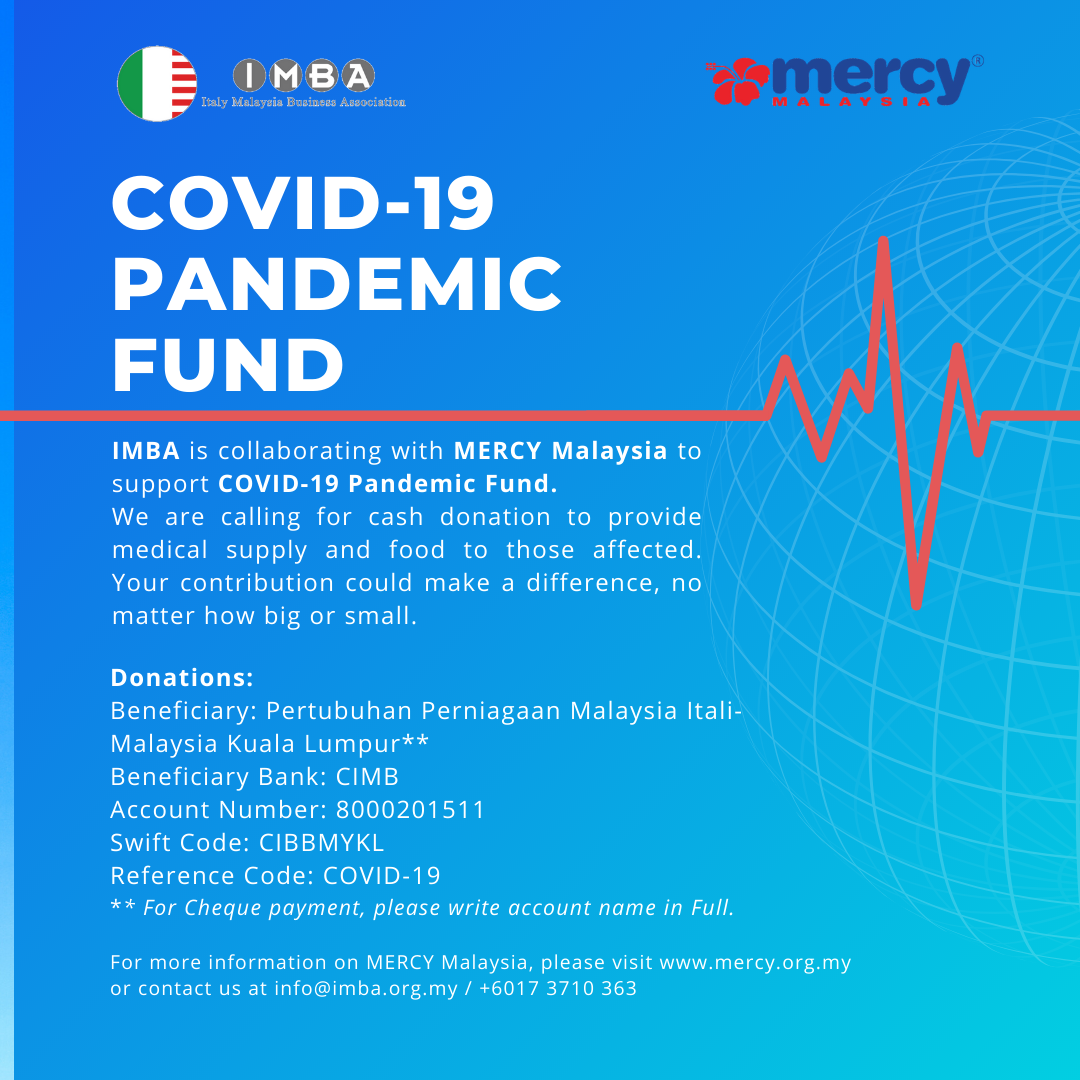 ---
The Italian Agency - Job Vacancy
IMBA Update : An Introduction to Transfer Pricing With Quantera Global at Trader Hotel Kuala Lumpur - 26th February 2020
Sunset Party at Cicchetti di Zenzero - 22nd December 2019
​The Italian Christmas Party . 14th December 2019 at M Marini Grand Caffè & Terrazza
Business Innovation Congress (BIC) - Digital Transitions : Industry 4.0 & AI at Grand Hyatt Kuala Lumpur - 27 Nov 2019
IMBA Gala Italia 2019 at The Westin Kuala Lumpur 22 November 2019
Italian Language Beginners and Elementary Classes 21st October - 4th December 2019
​
Italian Week 23 - 28 September with Chef Daniele Devillanova at Traders Hotel Kuala Lumpur
"Per...inciso" by E.sperimenti GDO Dance Company at ISKL 19.09.19
IMBA Update : Digital Economy : Malaysia New Era of Business Growth
EUMCCI In Conversation With: Empowering Science & Innovation in Malaysia - July 31st 2019 at DoubleTree by Hilton KL
Italian Film Festival 2019 at Johor Bahru - 25th - 31st July
Leonardo Opera Omnia at National Art Gallery from 15th July 2019 - 15th August 2019
Summer Aperitivo Italiano at Gooddam - 21st July 2019
IMBA Update : Talk Session with Chairman of MIDA, Dato Abdul Majid Ahmad Khan at Traders Hotel Kuala Lumpur - 13th June 2019
Spanish Italian Networking & Wine Degustation at Fook - 30th May 2019
The Italian Day 2019 - 26th April 2019 at University of Malaya
---
Celebrate Risotto Day at Ciccheti di Zenzero - 26th March 2019
Round Table Session with Dr. Muhammed Khalid, Economic Advisor to the Malaysian Prime Minister - 4th April 2019, Traders Hotel Kuala Lumpur
The Italian Networking Dinner 2019 - 19th March 2019 at The RuMa Hotel & Residences
New Year Aperitivo Italiano on 17th January 2019 at Villa Danieli, Sheraton Imperial Kuala Lumpur Hotel
​Extraordinary Italian Taste - the week of the Italian cuisine in the world to take place in Kuala Lumpur from November 24th to November 29th
Gran Gala Italia - Year End Dinner at Marini's on 57 with Michelin Starred Chef Daniele Repetti on 29th November 2018
Europa Awards for Sustainability 2018 Gala Dinner

- 22 November 2018 @ Four Seasons Kuala Lumpur
Madama Butterfly @ KPAC - 22-25 November 2018
Italian Film Festival (IFF) 2018 - Opening Launch - 12 November 2018
Interchamber Ladies Sundowner - 31 October 2018 @ U-Bar, Capri by Fraser Kuala Lumpur
2018 CIMB Classic PGA Tour- Inter Chamber Networking Event @ TPC Kuala Lumpur - 10 October 2018

Amarone Wine Dinner @ Traders Hotel Kuala Lumpur - 26 September 2018
IMBA Update: Seminar on SST @ Traders Hotel - 19 September 2018
Launch of 2018 Fall Winter Safilo Eyewear Collections- @ Ciao Ristorante - 5 September 2018
Sweet Beginning, A Duo Alterno's Concert @ UITM - 4 September 2018
IMBA Aperitivo Italiano @ Mosto Wine Bar - 29 August 2018
Caravaggio Opera Omnia Exhibition - 14th July to 5th September 2018
Launch of The Italian Emporium on Lazada - August 2nd 2018
Marco Vezzoso Live Project @ No Black Tie, 15th July 2018
IMBA Update:
Business Intelligence and Risk Management Workshop
+ Roundtable with the Italian Ambassador and the Italian Trade Commissioner
27th June 2018 @ Traders Hotel Kuala Lumpur
IMBA Aperitivo Italiano @ Nerovivo - 24 May 2018
Cecilia Brunori + Reverse Quartet - No Black Tie, 15 May 2018

IMBA International Networking Dinner at Marini's 57 - 25th April 2018

Junior Couture Italian Fashion Soiree 2018 at Maison, Pavilion KL -
12th April 2018
Italy and ASEAN: Political, Cultural and Economic Prospects of a New Relationship, University of Malaya - 10th April 2018
Aperitivo Italiano- Launch of In Motion, The Italy-Malaysia Business Magazine at Cicchetti di Zenzero - 16th March 2018
Vinicio Capossela Live in Action at No Black Tie- 6th March 2018
UniKL IPROM Design Gallery & Italian Design Day 2018, 2nd March 2018
The Italian Carnival! 9th February 2018 @ Wisma RKT
Attacchi di Pane - 3rd December 2017
The Extraordinary Italian Taste Week and IMBA year-end Gala Dinner
​20th - 26th November 2017
The Italian Film Festival 2017 is here!
​Dinner with YB Dato' Seri Mohamed Nazri bin Abdul Aziz Minister of Tourism and Culture Malaysia, 24th October 2017
​
Italian Language Week in the World 17th Edition, 16th to 22nd October 2017
​Le Nozze Di Figaro Premier at KLPAC ​, 12 October 2017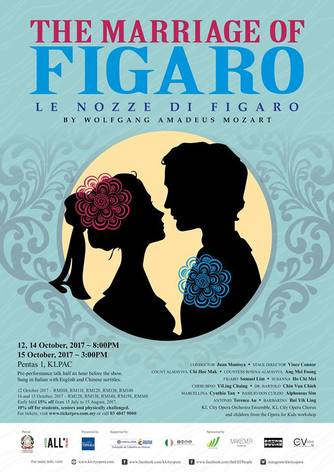 ---
IMBA UPDATE: Doing Business In Malaysia In Turbulent Times - 2 August 2017

- Traders Hotel
The First IMBA Hash Run - 8 July 2017 at Hulu Langat
2017 IMBA Grand Prix Karting - Friday June 9th 2017
Sepang International Kart Circuit
Interchamber business talk on April 27th
2017 Annual General Meeting Gala Dinner - April 26th
---
Invitation to explore business opportunities in Malacca on April 6th
2017 Carnival Party - February 24th
2017 ALYA Malaysian Open WTA tennis - February 28th
IMBA aperitif & year-end toast - 15th December 2016
The Extraordinary Italian Taste Gala Dinner - Gobo Restaurant, KL - 26th Nov 2016
Appreciation Dinner at Il Bacaro, Penang on November 16th 2016.
16th Edition of the Italian Language Week in the World - From 17th to 23rd October
"Stelle and Friends with Maestro Maurizio Colacicchi" - October 22nd 2016
Presentation by former Italian Prime Minister and Professor Enrico Letta on October 21st 2016
Gala Dinner
to celebrate the launch of
Logo - 8 October 2016
IMBA Update & Networking

- Special for Amatrice -

21st September 2016
Apericena at Luretta DOP on September 16th 2016
IMBA Update & Networking on August 24th 2016 at Royal Lake Club, Kuala Lumpur
Lovers of opera are in for a treat with popular La Bohème coming to town!