IMBA Update : An Introduction to Transfer Pricing With Quantera Global at Trader Hotel Kuala Lumpur - 26th February 2020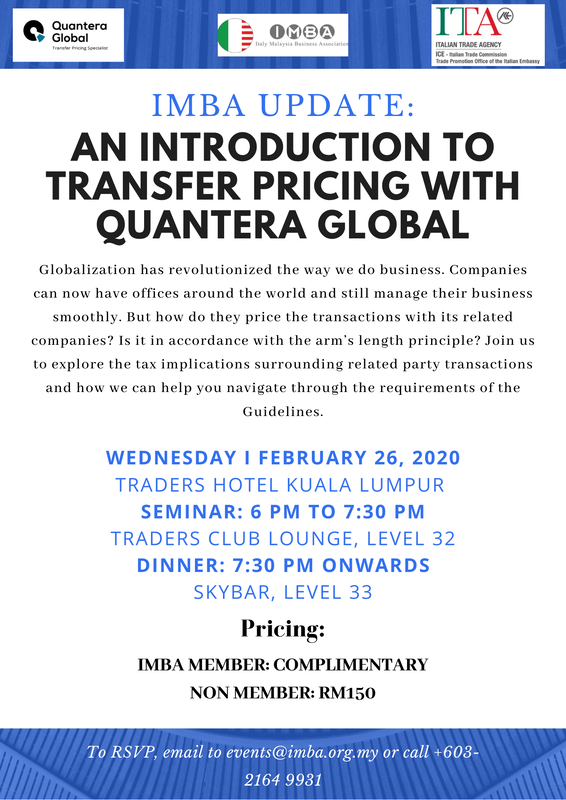 Join us at the upcoming IMBA Update, organized in collaboration with Quantera Global and The Italian Trade Agency, taking place on
February 26th
at Traders Hotel from 6pm onwards.
The topic of this session is Transfer Pricing, which refers to the rules and methods for pricing transactions within and between enterprises under common ownership or control.
Globalization has revolutionized the way we do business. Companies can now have offices around the world and still manage the business smoothly. But how do they price the transactions with its related companies? Is it in accordance with the arm's length principle?
The Malaysian tax authorities have issued the Transfer Pricing Guidelines which serves as a guide to determine how individual types of inter-company transactions should be priced. With the introduction of the new and improved Transfer Pricing Guidelines and the Country-by-Country Rules, many of us struggle with compliance. It is expected that the tax authorities' strategy will continue to be focused on tax audits and compliance.
Join us to explore the tax implications surrounding related party transactions and how we can help you navigate through the requirements of the Guidelines.
The agenda of the seminar will be as follows:
a) What is TP
b) The Malaysian regulation
c) Extracts of the Guidelines and Rules
d) TP Documentation
e) Quantera Global services
f) Q&A
The seminar will be followed by a networking dinner at Skybar.
​
Entrance fee:
IMBA Members: Complimentary
Non Members: RM 150
Information about the speaker:
The seminar will be conducted by Diviya Mohan, Senior Manager at
Quantera Global
Singapore and Malaysia. She has over 7 years' experience in transfer pricing matters including audits and transfer pricing advice for MNCs predominantly in Malaysia and Singapore across several industries.
Quantera Global is one of the world's leading, independent transfer pricing advisory firms, providing specialist transfer pricing planning, compliance and advisory support services to multinationals, globally. Quantera Global provides specialist transfer pricing services to clients through their seamless network of experienced practitioners and selected alliance partners.
To rsvp, please email us at
events@imba.org.my
or call us at +60 3 2164 9931